Alright, I'm going to do something I normally don't do because it's something I am very conscious about, I'm going to be posting a picture of me without a single tinge of makeup on my face because I found a product that has been doing some amazing results. Before I get too far into it, for disclosure purposes, I received this product in exchange for an
honest
review. I'm not here to lead anyone a stray on things so I promise I won't leave anything out!
I received a bottle of Oz Naturals Hyaluronic Acid with Vitamin A & E 5 days ago, now I know I am not old and my skin is not the worst but the closer I get to 30 the more concerned I get with skin care because I don't want to look 30! I also have a lot of scars and blemishes from a bad bought of cystic acne that lasted for almost ten years. What this product is supposed to do is plump your skin the get rid of fine lines, wrinkles, and just give your skin an overall better appearance because the hyaluronic acid works to hydrate your skin while vitamin A and E sooth and moisturize. Some things to note about this company is that they guarantee results so if you are not satisfied you can get a refund (big plus on buying any new beauty item!), they are made in the U.S., they use natural and organic ingredients so you are not rubbing harsh chemicals on your face (no alcohol, parabens, or sulfates!), they are cruelty free, and they have some really solid science behind the specific ingredients they use. They are very open about everything that goes into their products and even offer the reasons why each item is there.
I was originally going to make a large post explaining each ingredient after going over them but they already have that taken care of so let me give you a compact list of the more important notes:
Hyaluronic acid attracts water from moisturizers and keeps it retained in your skin to plump and hydrate.
Vitamin C is an antioxidant that protects us from our everyday exposure to free radicals that can speed up the effects of aging, it also supports collagen production to help restore elasticity to skin.
Green tea is an antioxidant and has anti-inflammatory properties that helps to combat redness, puffy skin, collagen breakdown, free radicals, and helps reduce the damage done to skin by UV radiation.
Vitamin E is just like the superfood of the skin world, not only does it help heal blemishes and scars through cell regeneration but it also moisturizes the skin by absorbing deep into the epidermis instead of just sitting on the top layer.
Here is a list of the ingredients, some are natural preservatives while others work synergistically with one of the main ingredients above. If you have any questions you can always feel free to ask me!
Organic Aloe, Botanical Hyaluronic Acid, Witch Hazel, Kosher Vegetable Glycerin, MSM, Hydroxyethyl Cellulose, Carrageenan Gum, Organic Jojoba Oil, Wildcrafted Green Tea, Geranium Essential Oil, Vitamin C, Vitamin E, Sodium Benzoate, Potassium Sorbate, Ethyl Hexyl Glycerin.
We are almost to the picture, I promise!
Now this is how it is directed to be used and is exactly how I used it for the purpose of this review:
Wash face as normal and pat dry.
Apply serum and let it dry.
Apply your normal moisturizer after the serum has dried.
Repeat this once in the morning and once at night.
Okay now onto the review: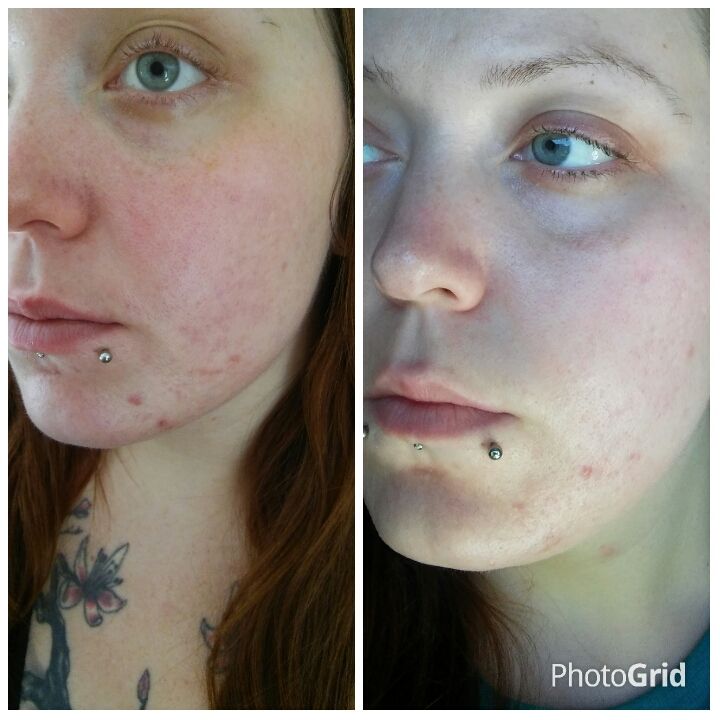 I used this for 5 days, morning and night, both of the pictures were taken in natural light with the one on the left being my face before the first application and without any makeup and the one on the right after 5 days and without any makeup. Amazing huh?! I knew every time I washed my face I could feel a difference in the texture of my skin, it became a lot smoother and I noticed that some of my breakout areas were clearing up but I didn't realize how much had changed until I put the pictures side by side. I had a huge reduction in redness, the puffyness under my eye decreased, and some of my scars were becoming less dark and prominent! The only thing I changed in my normal routine was adding the Oz Natural serum so I am beyond impressed with the results. I have tried a handful of other acid serums but a lot seemed to irritate my skin or feel like it was burning, so far I have not had that experience with this one at all. I have not had any sticky residue or any unpleasant issues, the only issue I had was a tiny bit of a sting after waxing one time but I assume that is because my skin was very tender.