Today I received my monthly subscription to the OTM (Of The Month) from GDE (Glamour Doll Eyes). Subscriptions are limited and you have to join a wait list to get one but I think it's worth it but I also enjoy trying indie makeup. Every month we get a new eyeshadow and at least one surprise extra. This month we got a loose shadow, a new PRESSED shadow, and a nail polish (along with a freaking adorable charm and candy but you know that didn't last long enough to photograph it!)
Items:
- GDE loose shadow in Paroxysm. It is a lavender (almost lilac) base with a silver duochrome look and what appears to be a blue/silver sparkle.
- GDE pressed shadow in Limerence. It is a tarnished purple toned pink with a rose gold shift.
- Leesha's Lacquer in Good Weather for Some Leather. It is a black jelly polish with multi-colored black holo micro sparkle and red glitter.
- Handcuff charm
- Redhots (not pictured!)
Pics:
(Limerence left Paroxysm right)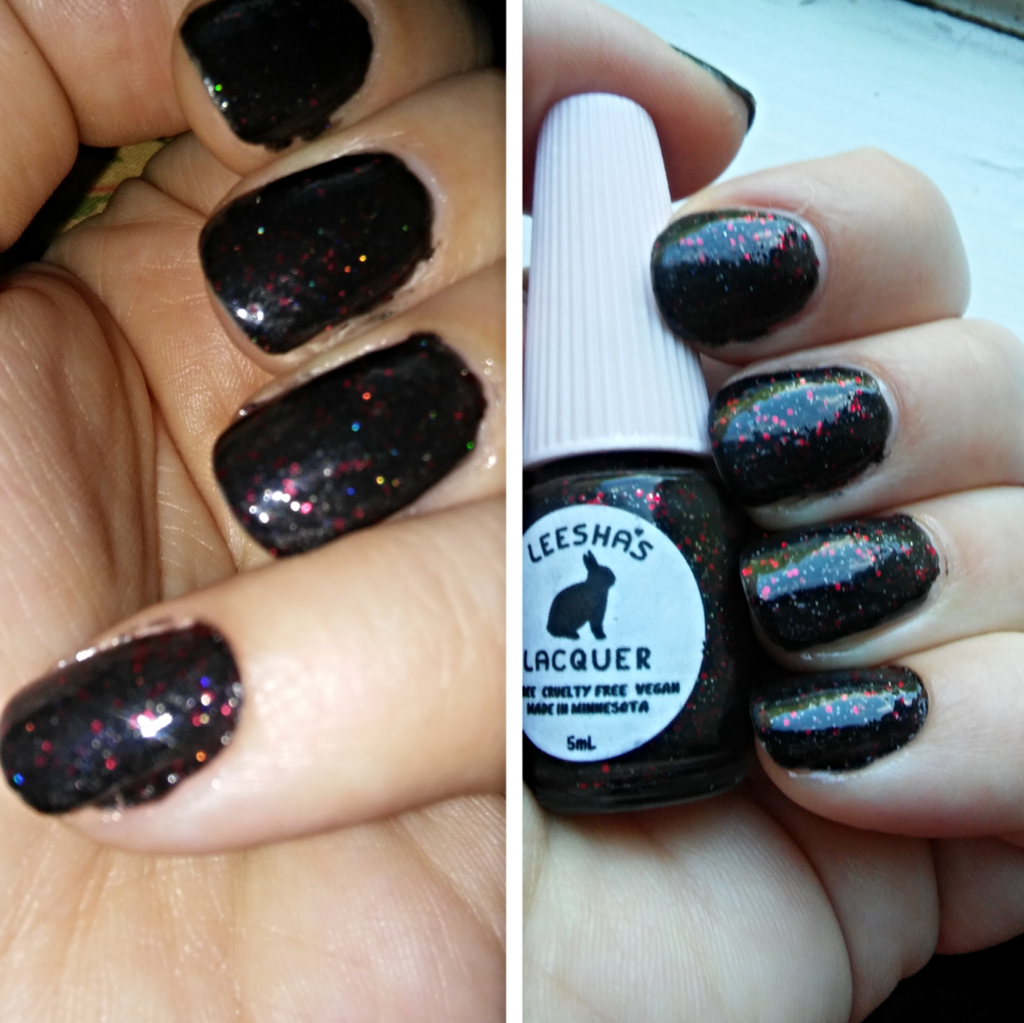 Review:
It's no surprise that I loved my shadows, the loose one is blend-able and easy to work with while the new pressed shadow is SO BUTTERY! I could easily compare the texture, application, and overall quality to that of the buttery soft Urban Decay eyeshadows. I love that the colors went so well together and the charm was just adorable and a nice addition to my growing collection. I do have to say that I was not the biggest fan of the nail polish but that could be a personal thing because I don't like jelly polish. To me jelly polish just looks streaky and unfinished so I did apply very thick layers using this polish which caused it to not only glob into my cuticle area (sorry about the bad pics!) but also to not allow much of the glitter to show through. I prefer opaque nail polish any day. The glitter colors in this are nice together and it is 5 free which is great but I don't think I'll ever love a jelly polish, sorry guys.
If you want to check out what eyeshadows are currently offered on GDE click
here.
Did you get this or one of the singles? Let me know what you thought in the comments!